Thermal Infrared Imaging Specialists on Delmarva Serving Maryland, Delaware & Virginia
Delmarva Infrared Services is an independent thermal imaging testing and consulting firm providing thermal infrared inspection analysis and surveys on electrical, mechanical, utility, building, and other structural integrities on Delmarva. Located in Salisbury, MD, Delmarva Infrared Services uses the most advanced thermo graphic sensors and highest level of thermographic inspectors to locate the source. Our technicians evaluate the performance and safety of electrical and mechanical systems, steam plants, roofing and insulation. When used to locate and document thermal anomalies (hot spots) in buildings and building systems, our infrared system surveys help property owners and facility managers to identify potentially dangerous and costly problems. Our infrared baseline survey provides crucial information about the performance of an existing building, information that serves as a benchmark for tracking the integrity and performance of its different systems over time.
Infrared Thermography Testing Uncovers a Wide Range of Problems Fast and Accurately
Infrared or thermography testing is a powerful and highly accurate diagnostic tool for uncovering a wide range of problems in building structures, including moisture intrusion, leak detection, missing or damaged insulation, overloaded circuits, faulty wiring, loose electrical connections, construction defects, and post-fire damage. Our expertise in thermal infrared inspection and assessment services has earned accolades from facilities managers, plant managers, building maintenance specialists and building owners on the Eastern Shore.
Delmarva Infrared Services specializes in the following areas:

● Building Envelope Analysis

● Energy Audits

● Moisture Detection

● Roof Moisture & Evaluation

● Electrical

● Plumbing

● HVAC

● Storm Water Management

● Large Animals

● Detecting Mold Sources

● Radiant Flooring

● Electronics & Computer Systems

● Steam Utilities

● Boiler/Refractory

● Swimming Pool Leak Diagnosis

● Aeronautical/Automotive/Marine

● Invasive Pests

● Construction Integrity

Delmarva Infrared Services has expanded its offices to provide thermal infrared services in:

Maryland:

Ocean City, Cambridge, Easton, Chestertown, Pocomoke and Salisbury, MD

Delaware: Seaford and Dover, DE

Virginia: New Church and Wallops Island, VA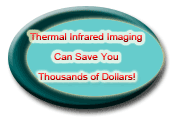 CONTACT US TODAY!
Salisbury, MD
(410) 543-8668
(888) 701-SCAN